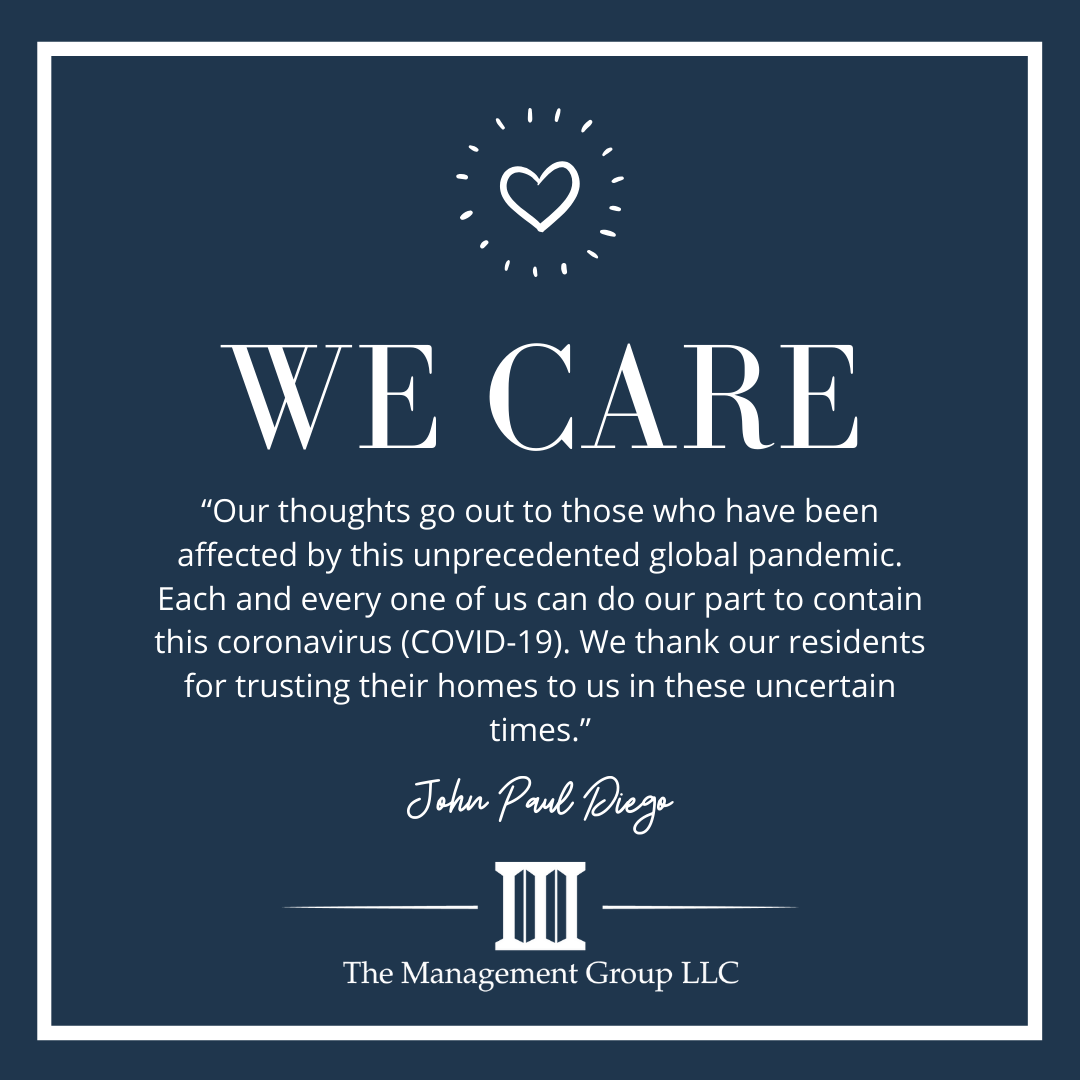 CORONAVIRUS DISEASE (COVID-19) INFORMATION
The Management Group LLC is focused on maintaining the health and safety of our associates, residents, tenants, and communities during this time of uncertainty. The COVID-19 pandemic has greatly affected us all; below is a comprehensive list of proactive steps we are taking as an organization. We wish you all health and safety and we will continue to monitor the COVID-19 pandemic. We will control what we can control by updating our operational policies as needed.
OPERATIONAL UPDATES:
Closing our leasing offices to in-person traffic and only available for curbside package pick up

Closing all non-essential amenity areas.

Introducing Virtual Leasing technology to provide uninterrupted customer service for our residents and visitors.

Deep cleaning of amenities during this time.

Reinforcing our thorough sanitation protocols at all communities.

Implemented a work from home policy for our corporate office and on-site sales team members (with only one team member in the office daily).

Halting all non-essential business travel.

Utilizing video communications through our IT Platform, Microsoft Teams.
TO OUR RESIDENTS:
The Management Group is working to make it easier for our residents to stay home during this time. To that end, we've eliminated Flexible Payment Fee (FPP) for our residents who would like to split their rent into 3 payments. There is no need to leave your home to deliver a check for future rent payments.
We have enhanced our safety protocols for our valued Maintenance Team Members performing work orders they are asking 3 safety questions before entering apartment homes and using appropriate PPE (personal protective equipment).